Welcome to the Naples Jazz Lovers Website.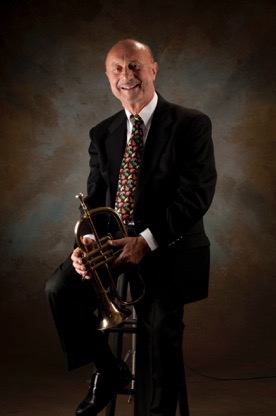 The jazz musicians and fans of S.W. Florida celebrate mainstream jazz and the Great American Songbook performing at venues in the greater Naples Area. We continue to build the jazz enthusiast community that we've come to know as The Naples Jazz Lovers! Email me to receive my weekly Naples Jazz Lovers' Newsletter/schedule.

For information about my new albums, click on the tab Recordings and scroll down to the audio clips Bossa Novas for Trumpet and Standards for Trumpet Volume 1, etc.
 See below the first Naples Daily News article information about my Skype or FaceTime lessons.

You can also hear sound samples and view the album covers with song lists. To  purchase albums at a discount email me at bobzottola@naplesjazzlovers.com. To view videos I made for YouTube about my Music Minus One albums just Google Bob Zottola, jazz and Music Minus One.

My latest project was creating recordings for a New York company called Music Minus One, who are actually the originators of the Classical, Jazz and Pop play or sing-a-long concept that morphed into the hugely popular Karaoke.  

These recordings are dual purpose, they can simply be listened to as "stand-alone" CDs with renditions of some of the finest songs of the Great American Song Book or with the included play-along tracks, music book with melody, chords, lyrics and transcriptions of my solos along with comments and instructions, It is a kind of mini-course of my ear-based, melodic approach to jazz styling and improvisation for trumpet and other instruments including vocalists. 

Please email me for my weekly newsletter and event notifications at the following email address: bobzottola@naplesjazzlovers.com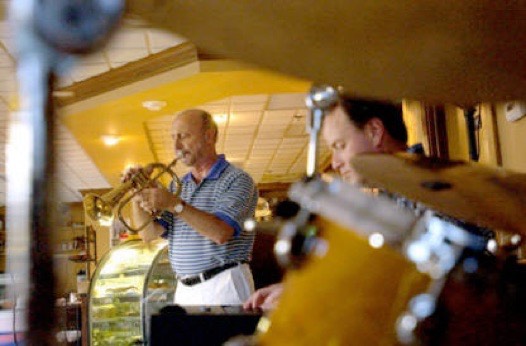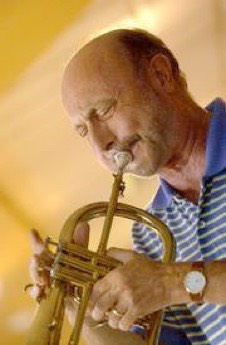 Naples Daily News Article by Bruce Klauber
Jazz trumpeter Bob Zottola played with them all. And all, in this case, means legends like Benny Goodman, Peggy Lee, Frank Sinatra, Charlie Barnet, Gerry Mulligan, Maynard Ferguson, Chick Corea and dozens of others.
With those credits, he could easily be resting on his laurels, With the emphasis on the word "rest." When Zottola moved to Southwest Florida in 2004 after completing a 16- year run in the Broadway orchestra of "Les Miserables" In New York City, he was certainly entitled to a break.
But he's done anything but slow down. He plays seven nights per week - and a few afternoons as well - and, in the process, is contributing to make Naples a jazz town. Only a world-class player could do that.
Becoming world class takes time. Bob Zottola's been at it since childhood and he was surrounded by music in his native Greenwich, Conn. home from the time he was in the cradle.
"My father, Frank, was a trumpet player," he recalls. "And he was a violinist, conductor and arranger for the Claude Thornhill big band, right alongside the great Gil Evans, who would later gain fame with his collaborations with Miles Davis. As a child, my father would take me to Evans' apartment in New York City, and I would play with Gil's dog while my father worked on the orchestrations. There were big band rehearsals at my house constantly, and my father always played records by the great old trumpeters like Louis Armstrong, Bix Beiderbecke and Bunny Berigan. I'm sure I picked up a lot of my musical stuff as a kid by osmosis."
As for the trumpet, his school music director, who knew Zottola's dad was a musician, recruited the youngster for the school band. Zottola ran excitedly home to tell his father, but couldn't decide what instrument to play. His dad pointed at the trumpet resting on top of the upright piano. "Well there it is," his father said.
It wasn't a love affair between the player and the instrument in the beginning. He wasn't thrilled with the strict, old-world style of teaching and he describes the sound he heard from his first experiences in a music ensemble as "horrible." He didn't pick the horn up again until he was 11. It wasn't long after that he began winning prizes and appearing on television and radio.
Zottola doesn't use these words, but it's clear he was a child prodigy, touring nationally from the age of 12.
"I did television shows like 'The Original Amateur Hour,' 'Paul Whiteman's TV Teen Club' and 'Arthur Godfrey's Talent Scouts,'" he remembers, "These were talent competitions, and when I won in these shows, the producers would take me around the country, playing for huge audiences with a big band, with orchestrations that were written for me.

Eventually, I joined the Godfrey morning show with the pros, and the next thing I know, I was told I had to join the New York City Musician's Union!"
This was one successful child performer who seemingly made the transition to adulthood with ease. Support in this area came from an unlikely place: the United States Air Force.
"A colonel in the Air Force from Washington, D.C. contacted the band director of my high school. Coincidently, the colonel had been the high school band director at one time. He had heard about me and since a trumpet player  was being discharged there was an opening in the Airmen of Note, the continuation of the Glenn Miller Army Air Corps Band and now  the premier jazz big band of the U.S. Air Force " Zottola recalls.
"My dad took me to Washington to audition, and I played with guys like Tommy Newsom, who later found fame on 'The Tonight Show,' and the great arranger/trombonist Sammy Nestico who were in the band at that time. I passed the audition and they shipped me off to basic training. You could make a career of it if you wanted. Sammy Nestico, later to write for Count Basie and many others, was there for 20 or 30 years. I did my straight four years. That seemed like enough, I was itching to get out there and play and do all the things I always dreamed about."
Thus, another transition, to that of freelance professional musician. New York City was a thriving oasis in the 1950s, not only as a jazz town, but also as the center for musical work in television, Broadway pit bands, radio and recording studios. An accomplished, studied and versatile player could do very well in the Big Apple back then, and given the many kinds of work available, things were never dull.
Zottola's first experience with a name band after military service was with the orchestra of swing era icon Charlie Barnet. Dull it wasn't.
"That was less than the romantic dream that I had," he says of the Barnet gig, " I was riding around in Charlie's car, doing one-nighters."
Things improved. As a result of the stellar contacts he made while with the Airmen of Note, the quality of work quickly improved. He was busy in the recording and television studios. Even "The Price is Right" had a house orchestra in those days, He is particularly proud of his affiliation with "The King of Swing" himself, Benny Goodman.
Goodman was asked to put together a big band for the 1964 New York World's Fair. As Zottola describes it. "This was a real all-star band. It was an unlikely group of suspects but it was really terrific. You had players like trombonist Frank Rehak, trumpeter Clark Terry, and just one great player after another."
He had no grand plan for his success in those days, or for today, for that matter.
"People ask me how they can break into the music scene," he says. "I didn't go the drawing board or read a book on business or time management or 'How to Win Friends and Influence People.' If you know what you're doing, people hear you and it just happens. They recommend you to other people. How did I get to play with Benny Goodman? I played with Tommy Newsom for three years in the Airmen of Note. He remembered how I played, so when it came time for him to recommend someone he recommended me. That's how I got into the studios, I never had an agent. There was no other way then, other than your colleagues recommending you."
Having worked next to these giants for so many years, the trumpeter was and is anything but star struck and is anything but a name dropper. When pressed, he mentions his pride in being a part of Frank Sinatra's "East Coast band" of the 1980s, his world tour with Chick Corea in the late 1970s, backing Peggy Lee and playing with Maynard Ferguson's big band.
When "Les Miserables" closed on Broadway in 2003 after 16 years, he had to make some major decisions.
"I started doing some substitute work on shows like 'Wonderful Town,' 'Chitty Chitty Bang Bang' and 'Gypsy,'" he says. "But because I had more free time, my wife and I started coming down to Naples more often to vacation. Then, The Cafe on Fifth started in 2004. I played there on a Friday night, and had no idea how it was going to work out." From that, it slowly blossomed.
"There's something very, very special about the group I call 'The Naples Jazz Lovers.' Part of it might be the nostalgia factor. They lived through the big band era," he says. "They were not exposed to it after the fact. They were there when Benny Goodman gave his Carnegie Hall concert. They were on 52nd Street."
Off the bandstand, Zottola is affable, low-key, witty and positive. He takes his music seriously, but not too seriously, and he holds his devoted audiences in high regard. On the bandstand, he's the same way. He lets the music happen, which is how the best jazz is made, and never even suggests how one of his talented sidemen should play. He lets them be themselves and gives each and every one of his players - no matter what the size of the Expandable Jazz Band on a particular evening - ample solo space. This is a rarity. Especially in the jazz business.

I now offer on-line Skype or FaceTime lessons on jazz styling and phrasing and the art of improvisation using my natural or ear-based approach. This is applicable to all instruments and singers.  Purchasers of any of my Music Minus One (Play-along) albums are entitled to a complimentary one hour lesson. For more information you can contact me at:

bobzottola@naplesjazzlovers.com

or (239) 591-0635.

(article from the Naples Daily News 8/10/06)

My Life So Far

'Trying to play each note as best you can' Bob Zottola, musician

Thursday, August 10, 2006

Bob Zottola stands, tapping his feet. He snaps his fingers.

One-two-three-four, one-two-three-four

The drums and piano kick in.

Tap-tap-tap-tap

And then he starts to play. The melody to the Rodgers and Hart classic "Have You Met Miss Jones?" sings out from Zottola's trumpet.

Bah-bahdah-bahdah

Then he launches into his solo. He bends his knees and arches his back. His eyes close tightly. His cheeks puff out.

Zottola works thoughtfully through a series of chord progressions and runs, each note effortlessly following the next. After a few moments, it's over. He relaxes, rests his trumpet and watches the guitar player take his turn, who first

exchanges a knowing glance with the trumpeter, acknowledging Zottola's solo and saying, "Check out what I can do with that."

This sort of interplay among musicians has been part of Zottola's life for most of his 69 years. Sometimes he's in the spotlight, but more often he's been a complementary player to a bigger name. Frank Sinatra, Benny Goodman, Rosemary Clooney, Chick Corea, to name a few.

Zottola had a lot to say about the music business, about Broadway, being on the road and about that dreaded "R" word — retirement. Here are the high notes, in his own words:

The early days

I come from a musical family. I've always had music in my life.

My parents were musicians. My father played the trumpet and the violin. He played all over the tri-state area — New York, New Jersey and Connecticut, where I grew up.

There was always a band practicing in my house.

I went to school and the band director came up to me. "I hear your dad is a professional musician. You want to join the band?"

I went home to tell my father and he pointed to the trumpet on top of the piano.

My father gave me lessons. And after high school I studied with some of the best players in New York City.

His education

When I graduated High School I auditioned for  the Air Men of Note in Washington, DC which was the continuation of the Glenn Miller Army Air Force Band. They starred  in "The Glenn Miller Story" with Jimmy Stewart. Unfortunately, that was just before I joined, so I wasn't part of the movie.

But it was a great experience for me. I got to play with a bunch of real pros. There were some great players, like Tommy Newsom who played on "The Tonight Show" with Doc Severinsen. THe leader was Sammy Nestico who went on to make his mark as an arranger in Hollywood. Just tremendous musicians in that band.

All of those guys were 10 or 15 years older than me. They showed me the way. That was my college education in music.

His first tour

The first tour I went on was with Charlie Barnet. It was less than fantastic.

I had a vision of what I thought playing with a big band on the road would be like. But this was already at the tail end of the Big Band era.

You were riding in the car with Charlie Barnet, drinking and smoking. And you were wondering what exactly it was that they were smoking, and if that person should really be driving.

I guess there's a certain charm to all that. But that wasn't what I was hoping for exactly.

The Chairman of the Board

Frank Sinatra is without a doubt the best singer I ever worked with. If you ask Tony Bennett who's the better singer, I'm certain he'd say Frank, too.

Part of it is the charisma, both positive or negative with the mob ties and all that. He kind of played that up and it allowed him to be even more successful.

But aside from all of that, the man was an exceptional musical talent. He transformed the whole vocal world and beyond.

You can talk to the great instrumentalists, they'll talk about how he influenced them. Miles Davis used to talk about Frank as an influence.

He was just incomparable in interpreting the song. He could make you feel every emotion.

Doing his part

As a musician in the band accompanying stars, your intent has to be to enhance the performer, to give a foundation for that person to succeed on.

It's little spurts here and there, trying to play each note as best you can. Maybe you get a solo here and there and try to stand out. But it's all about the star.

When I played with Chick Corea it was a little different because you were so amplified. Every player had his own giant speaker right above him. When you played it was like you were Gigantor or the Hulk. When I played my trumpet then, it sounded like 50 trumpets!

It was almost disconcerting.

On Broadway

I had a full-time gig playing in "Les Miserables" for 16 years, until it closed in 2003.

I was using Broadway as my steady job. Musicians typically don't have steady jobs. For most a steady job is three weeks or a month.

But being gainfully employed let me do things like go out on the road with Chick Corea or Frank Sinatra and still pay the mortgage.

There are only about 400 full-time musicians on Broadway, maybe not even that many anymore. "Les Miz" pulled the plug in part because of September 11. Broadway, especially the musicals, are so dependent on tourism.

The great thing about working on Broadway is that you are responsible for your part. If I wanted to go out on tour or needed a break, all I had to do was find someone to take my place for those shows.

And you need a break, doing eight shows a week is a grind. You play the same thing every night. But it's almost like practice. Each night you come in and think about how you can make your performance just a little better. How you can play the notes better.

On retirement

Retirement is a very dirty word to me. I don't like to think of myself as retired. Maybe I'm slowing down a little bit, but I still play gigs, both here and up North.

I never really planned it like this. My wife and I came down here to Naples in 1986  because my sister-in-law used to vacation here. We loved the place and started coming down more often. We bought a house in 2000.

But it wasn't really until the "Les Miz" closing that I started thinking, "Is now the time to "retire"? Do I really want to lock in to a new Broadway show?"

I realized I didn't have to worry about making the mortgage payment anymore and I could just play what I wanted to play.

That's how I got started down here. They don't pay me enough for me not to play the music I want to play. And I get to play it in front of people who really love the music and understand it.

When I was a kid, live music was a big deal. There wasn't much radio to speak of and you had to scrape up your pennies to buy a 78 (rpm record). So the best place to hear music was live. If someone said there's live music, we went to it.

Now we live in the iPod age. Music isn't as hard to come by. So people don't need the live performances as much.

One night in Barcelona

When I went on a world tour with Chick Corea we were well-received everywhere except for one stop. Barcelona.

Chick had this great love of Latin and Spanish music. We started playing this song, this very flamenco-ish song. Everywhere people loved it. Except in Spain.

We were in this huge amphitheater with thousands of people and we were playing this song. All of a sudden I started noticing the people were throwing pebbles onto the stage. Pretty soon it wasn't pebbles anymore, but small rocks.

I thought, "This is weird." I couldn't understand why they were throwing rocks at us. We didn't find out until later that flamenco meant something politically to these people, and some of the audience there weren't on that side of the politics.

It would be like going to the Middle East now and waving an American flag.